Export Records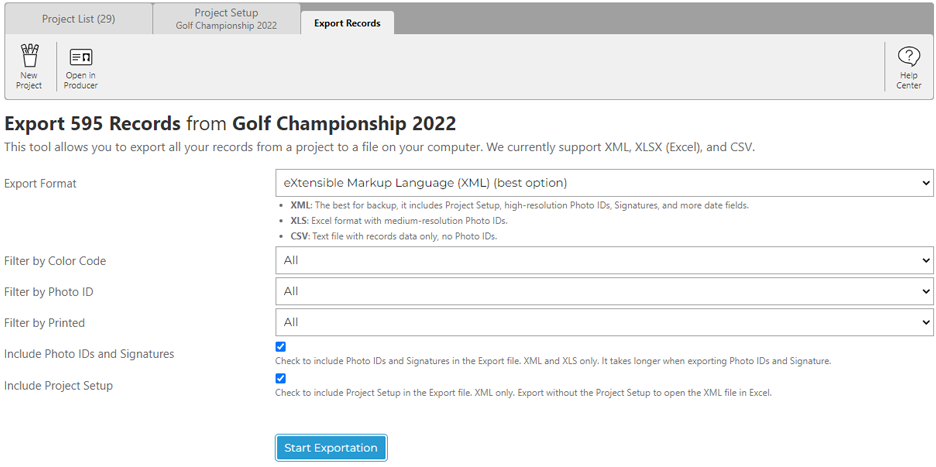 The Export Records feature is a powerful tool to extract records from any of your projects. Using the options, you can create lists of attendees per color code, security access, inventory, registered attendees, records that have been printed, etc. Depending on your plan, if you have activated the Contactless Card Reader, IDC will also export all the information about the RFID records (full JSON info and Contactless Serial Number (CSN)). API is coming soon with IDC Professional and IDC Enterprise.
The country follows the ISO/3166-1 (2 letters country code) in UPPER CASE.
The gender follows the ISO/IEC 5218 (number code).
The language follows the ISO/639-1 (2 letters country code) in UPPER CASE.
Tabs
Options
Export Format
Three formats are available. See below for more information.
Filter by Color Code
Allows you to extract All, Without, or one set of Color Code.
Filter by Photo ID
Allow you to extract All, With or Without records with Photo IDs.
Filter by Printed
Allow you to extract All, Yes, or Not records printed.
Include Photo IDs and Signatures
Check to include Photo IDs and Signatures in the Export file. XML and XLS only. It takes longer when exporting Photo IDs and Signature.
Include Project Setup
Check to include Project Setup in the Export file. XML only. Export without the Project Setup to open the XML file in Excel.
IDC supports three Exportation formats:
XML
The best for backup, it includes Project Setup, high-resolution Photo IDs, Signatures, and more date fields.
XLS
Excel format with medium-resolution Photo IDs.
CSV
Text file with records data only, no Photo IDs.