Color Code
The Color Code is a feature that helps you categorize your cardholders in Producer. Click on the color to open the Color Picker and choose your color. You can also copy/paste Hex Color Code, example: FF8000 for orange. Leave the description empty to remove the color from the pull-down menu in Producer.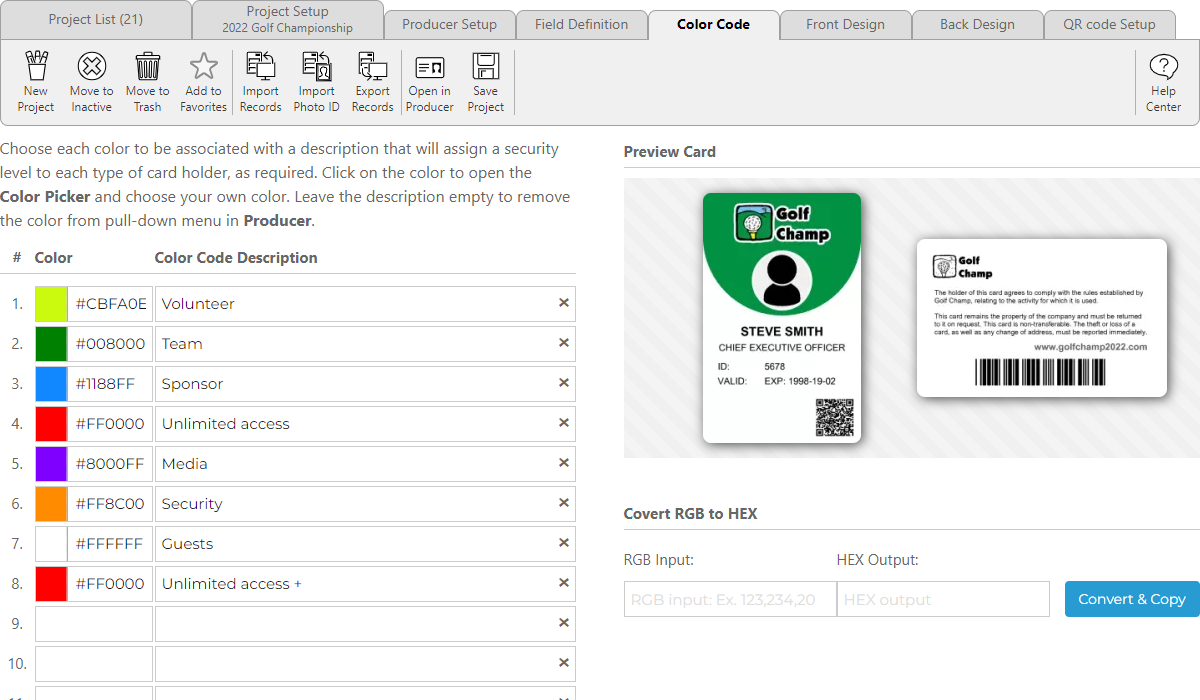 Tabs
Toolbar
New Project – Create a new project.
Move to Active – Move the project to active when ready to print cards in Producer.
Move to Trash – Remove the project from everywhere except for Administrator.
Import Records – Import records from a CSV file, Microsoft Excel, Microsoft Access, Google Sheets, etc.
Import Photo ID– Import Photo ID from a ZIP file. Imported photos are matched using the ID #. Ex: 100580.jpg. This feature is available upon request only and at our discretion.
Export Records – Export records to XLSX (Excel), CSV, and XML. You can export the Photo ID using the XML or XLSX format.
Open in Producer – Open the project directly in Producer (shortcut).
Save Project – Save the project to the cloud.
Help Center – This help page.
Content
We have three different types of objects we can place on a template to identify the category of the person on the card.
Background images based on the Color Code selected for the cardholders. This can be configured in the Front/Back Design tab.
Rectangular shape with the background color of the Color Code.
Description of the Color Code Example: Manager or Volunteer.
You can associate 15 colors with 15 descriptions that assign a security or other type of ID level to each type of cardholder, as required. This may be useful when you have several different zones within a complex or building (or at an event), each requiring a different level of access (ex: manager, security, volunteer, media, visitor, etc.). You can use the Color Code in many ways, see it as a pull-down menu for each card with the option to set a color.
Example: you can use only one two rows in your project: VALID and EXPIRED, leaving the 13 others empty. Use green for VALID and red for EXPIRED. In Producer, when you want to revoke a cardholder card, select EXPIRED and save the card. Next time you scan the card, you will see "EXPIRED" on your screen in red capitals.