User Setup
User Setup is where you enter all information for your users in the organization. Fill in the different fields, set role and privileges and click Save User. A new record appears in the Users List table.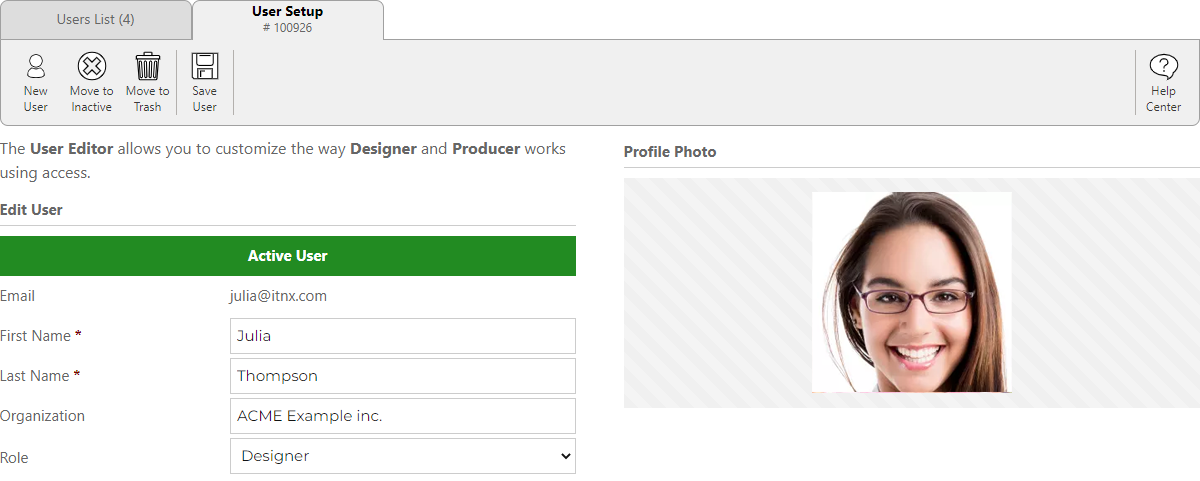 Tab
Users List – Manage all the users in the organization.
User Setup – Add / Edit User, Role and Privileges for a user.
Toolbar
Add New – Create a new user.
Move to Inactive – Move the user to Inactive so the user can't log in.
Move to Trash – Move the user to Trash so the user can't log in and Administrator can delete it.
Save User – Save the user to the cloud.
Help Center – This help page.
Status
By default, new users are Active and can log in right away.
| | |
| --- | --- |
| New | New user are available in Users to users with Administrator role. |
| Active | Active user can log in with its role and privileges specified for this organization. |
| Inactive | Inactive user cannot log in. |
| Trash | Trash user cannot log in. User with Administrator role can delete the user while with this status. |
Fields
First Name – Change the first name.
Last Name – Change the last name.
Email – Change the email address.
Role – Operator gets access to Producer. Designer gets access to Producer and Designer to create new projects. Administrator gets full access to the system.
Current Password – To change a user password, you must enter the current password,
New Password – The new password
New Password Again – Repeat the new password again.
Project User Privileges per projects

Below all the privileges you can set for users per project.
Favorite – Add projects to the users favorites.
Access Designer – Access this project in Designer.
Access Producer – Access this project in Producer.
Add Records – Add cards in Producer.
Edit Records – Edit cards in Producer.
Deactivate Records – Move cards to Inactive.
Trash/Delete Records – Move cards to Trash. Only Admin can Delete a trashed record versus Erase Records with this privilege.
Erase Records – Erase all information about the record permanently.
Capture Photo ID – Capture a Photo ID for a record.
Capture Signature – Capture a signature for a record.
Print Card – Preview cards before printing.
Preview Card – Preview cards with NO printing.
Print Queue – Send the record to the Print Queue (Enterprise only)
View Log – View activity log for a project.