Getting Started
This section will show you how to get started quickly with IDpack in the Cloud ("IDC"). Please read the following information carefully. It will save you time and questions.
Before you start using IDC, we want you to understand the logic behind the software and get an idea of how it operates. IDC works in a completely different way than our competitors' software because IDpack in the Cloud comes with two separate components. We decided to separate the card design from the card production, so we created Designer and Producer, which together make up IDC. There is a reason for this: when you have designed a project that is to be used at an event to print anything from hundreds up to tens of thousands of cards, you do not want anyone on the network to be able to interfere with the design of the card in any way. This is a major security advantage that you will not find in other software.
Moreover, with 23 years of experience selling our software IDpack for Windows, we realized two things. First, most of our customers don't use the full potential of Designer and create very basic card designs with only logo, Photo ID, first and last name, title, and barcode on a white background. Second, they struggle with the database because creating a database and modifying it is not a simple task and requires expertise that most don't have.
Those are the main reasons why with IDpack in the Cloud, we are taking full control over the design and database. You can choose your design in our templates and customize it with Designer and choose the fields you need for the data collection in our fields list. That way, you can concentrate on your business and get amazing cards with the fields you need for data collection and do this anywhere in the world.
Nomenclature
Below you will find the different terms you will see throughout the documentation and application.
Project includes all the configuration and design needed to print cards. You can create as many projects with different design for each as you want.
Designer is where you choose your template and configure it.
Producer is where you create and print your cards.
Template provides predefined card designs that you can choose from. In Designer, you can change all the images, dynamic text and static text to your liking, later.
Organization is an organized group of people with a particular purpose, such as a company, firm, concern, operation, corporation, institution, group, establishment, consortium, conglomerate, combine, syndicate, body, agency, federation, confederation, alliance, coalition, association, movement, society, league, club, network, confederacy.
Record is a unique record of information in a project that you can print on a card printer. You can store more information on a record (defined in the Designer Field Definition) than will be printed. We also call that data collection. Example, you can add the field Passport # to get the information on screen, but not printing it.
IDC interface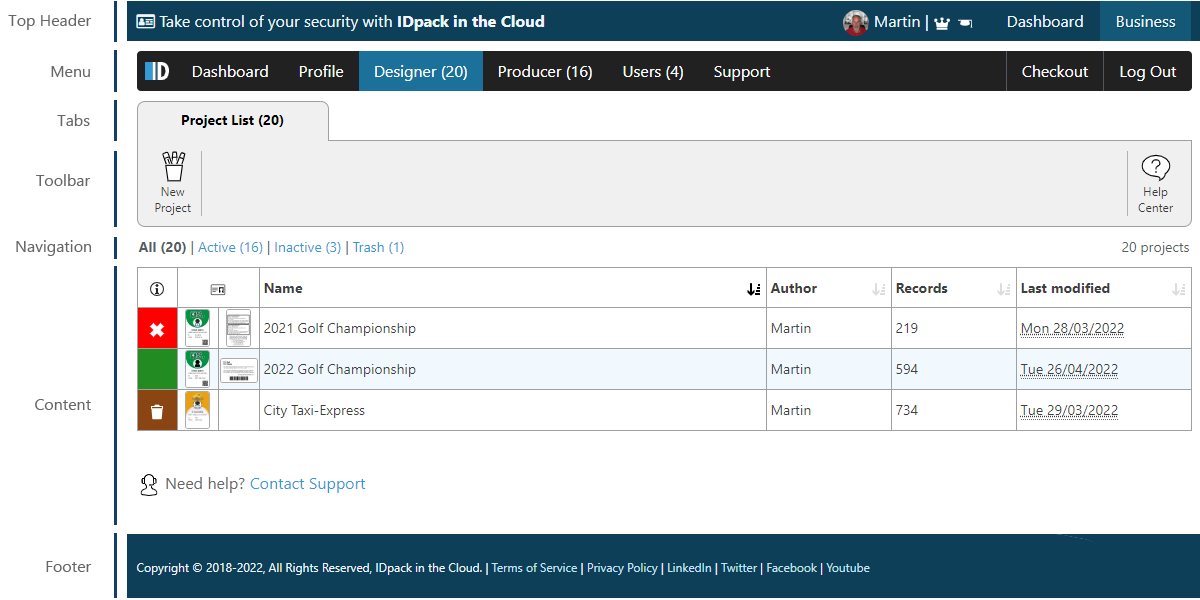 You can see above the IDC interface; we use the following nomenclature through the documentation.
Top Header – Profile photo, first name, badge earned, link to Profile and Dashboard, current plan.
Menu – Navigate the different main section and the Log Out
Tabs – Navigate the different section and sub-section.
Toolbar – Call to action and the help section.
Search – Search the current section.
Navigation – When a table list is available, a filter and navigation bar is displayed.
Content – Screen to use IDC.
Footer – Bottom of the page.
These menus and contents vary widely depending on your page location, role and privileges. You can also earn badges while using IDC. Example: Complete the training in the Dashboard and you will earn the
Graduation Badge. The
 Master Badge will change the interface for faster navigation and lighter pages with no tips and tricks. You can turn this badge on in the Profile section.
Let's Start
Ok, now you understand IDC, let's start creating you first card and print it in less than 15 minutes. Please read the following section on Designer to get started.
Great, at this point you have created your first card and moved it to active. If you go to the Producer section, you should see it in the list. Please read the following section on Producer to learn how to print your first card.
Congratulation, you should have printed your first card! Now you can do some more experimenting to get used to IDC and all its options and features. You can create unlimited projects in your account, and create active projects for live production, but also inactive projects for testing environments. Using the roles and privileges, you can also set the project to active but only visible to you, for testing purposes.