QR Code Setup
The QR Code Setup ub-sections (smaller tabs).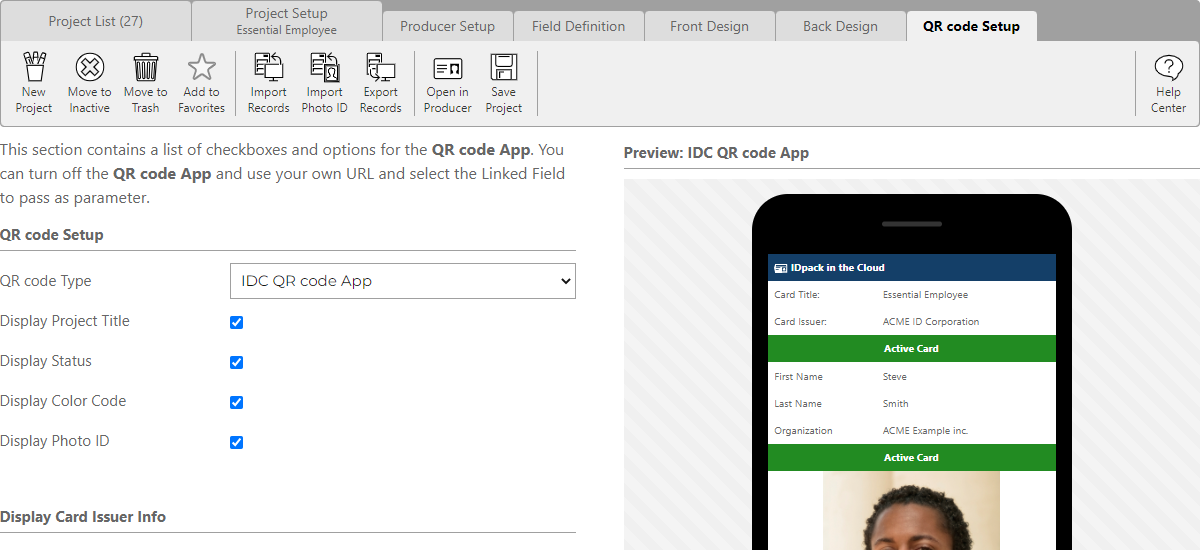 Tabs
Toolbar
New Project – Create a new project.
Move to Active – Move the project to active when ready to print cards in Producer.
Move to Trash – Remove the project from everywhere except for Administrator.
Import Records – Import records from a CSV file, Microsoft Excel, Microsoft Access, Google Sheet, etc.
Import Photo ID– Import Photo ID from a ZIP file. Imported photos are matched using the ID #. ex: 100580.jpg. This feature is available upon request only and at our discretion.
Export Records – Export records to XLSX (Excel), CSV, and XML. You can export the Photo ID using the XML or XLSX format.
Open in Producer – Open the project directly in Producer (shortcut).
Save Project – Save the project to the cloud.
Help Center – This help page.
QR Code Type
IDpack in the Cloud has many features build-in with QR Code. Below you can find the list and description on how they work.
IDC QR Code App
Custom URL
This is the simplest one,
Linked Field
LuggageTag in the Cloud
WiFi QR Code