Project Setup
The Project Setup main section and sub-sections (smaller tabs) allow you to customize the way IDC works with the project. You must understand each of the sections very well to control Designer and Producer as you desire. For a new project, once you save the project, more sub-sections and options will be available. You design your card layout in Designer and print them in Producer.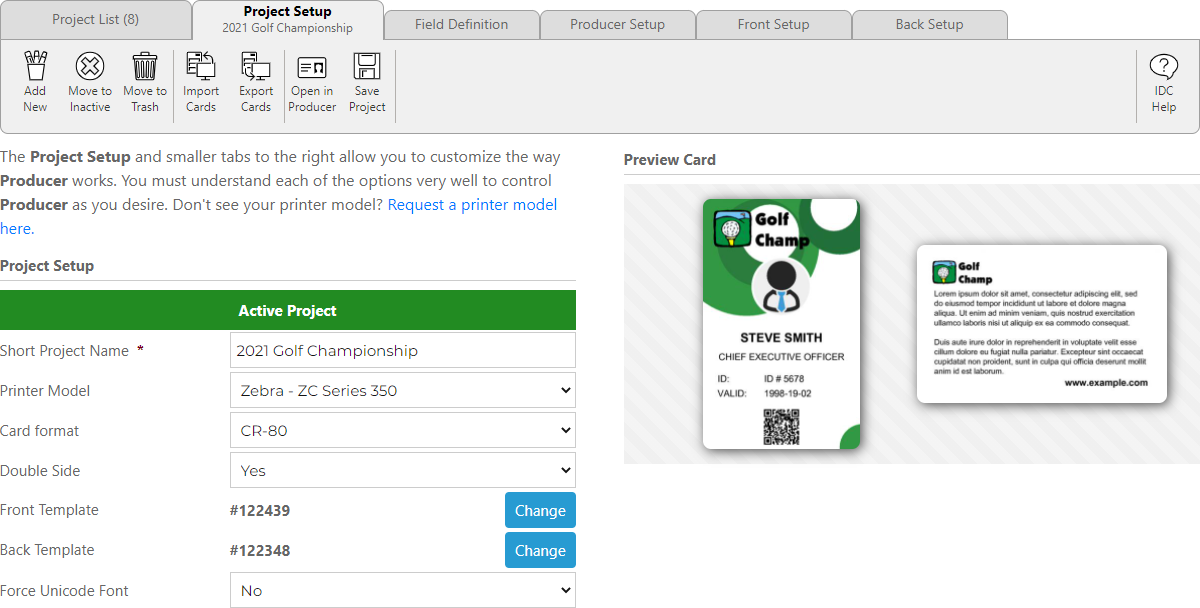 Tabs
Toolbar
Add New – Create a new project.
Move to Active – Move the project to active when ready to print cards in Producer.
Move to Trash – Remove the project from everywhere except for Administrator.
Import Cards – Import cards from a CSV file, Microsoft Excel, Microsoft Access, Google Sheet, etc.
Save Project – Save the project to the cloud.
IDC Help – This help page.
Status
By default, new projects are inactive, that way they are not showing up in Producer until you are ready to print them.
Active Project

– Active projects are displayed in Producer to team members with Administrator role or team members with Producer privileges specified per project.

Inactive Project

– Inactive projects are not available in Producer but can be seen by team members with Designer role in Designer.

Trash Project

– Trash is not available in Producer and can be seen only by team members with Administrator role in Designer
Fields
Short Project Name – Enter a name for your project.
Printer Model – Select your printer model for IDC to set up template with manufacturer's recommendations and help you configure your magstripe encoder more easily, if you have one. If your manufacturer is not listed, request a printer model.
Card format – IDC currently only supports CR-80, the default credit card size.
Double-Side – Check Double-Side to be able to choose a template for the back and Producer will flip the card automatically inside the printer. IDC supports all double side plastic ID card printers.
Front Template – Click the button Choose Front Template to choose the template you want to use for the front of the card. You can change or hide any images, static texts or dynamic texts later. You can also add prefix and suffix text to any dynamic text.
Back Template – Click the button Choose Back Template to choose the template you want to use for the back of the card. You can change or hide any images, static texts and dynamic texts later. You can also add prefix and suffix text to any dynamic text.
Force Unicode Font – By default, IDC fonts support many typefaces so leave it to No, but if in the preview the font is not correct, select Yes and IDC will use a font that supports most typefaces in the world. Unicode fonts only support regular and bold, no italic or any other style. Please note, Klingon is not supported yet, but we are working on it.
Logo – IDC will use your organization logo by default that you've set in Profile / Organization, but you can always change it for each project. Click on Choose File and choose a logo on your computer. For great printing results, a logo must be at least 900 pixels in width or height. We recommend png as file type; png supports transparency and the results in better looking prints. File size may not exceed 500 kb.
Preview Card
This is a preview of what your card will look like when printed. Dynamic fields will be updated with the information you enter in Producer and pictures will change for each card.
Delete Project


Only users with Administrator role can permanently delete a project. Click a project row in the Project List and go to the Project Setup tab. The project status must be: Trash to be deleted. Click Move to Trash if its not trashed yet. Now, to delete the project, scroll to the bottom of the screen and click Delete. The project and everything related to the record selected will be deleted permanently.
WARNING: There is no way back; by deleting a project, it will delete all the information related to it: project, design, record, activity log and picture image. Where security is concerned, the more information you have available, the better it is. We always recommend not to delete a project but leave it in the trash. Please don't contact us to restore deleted projects, we can't do anything once it is gone.