Producer Setup
Producer Setup contains a list of checkboxes and options for the Producer configuration. To ensure that all stations on the network are set up in the same way we place the Producer Setup in one place. This ensures that no individual user can alter the card layout being used.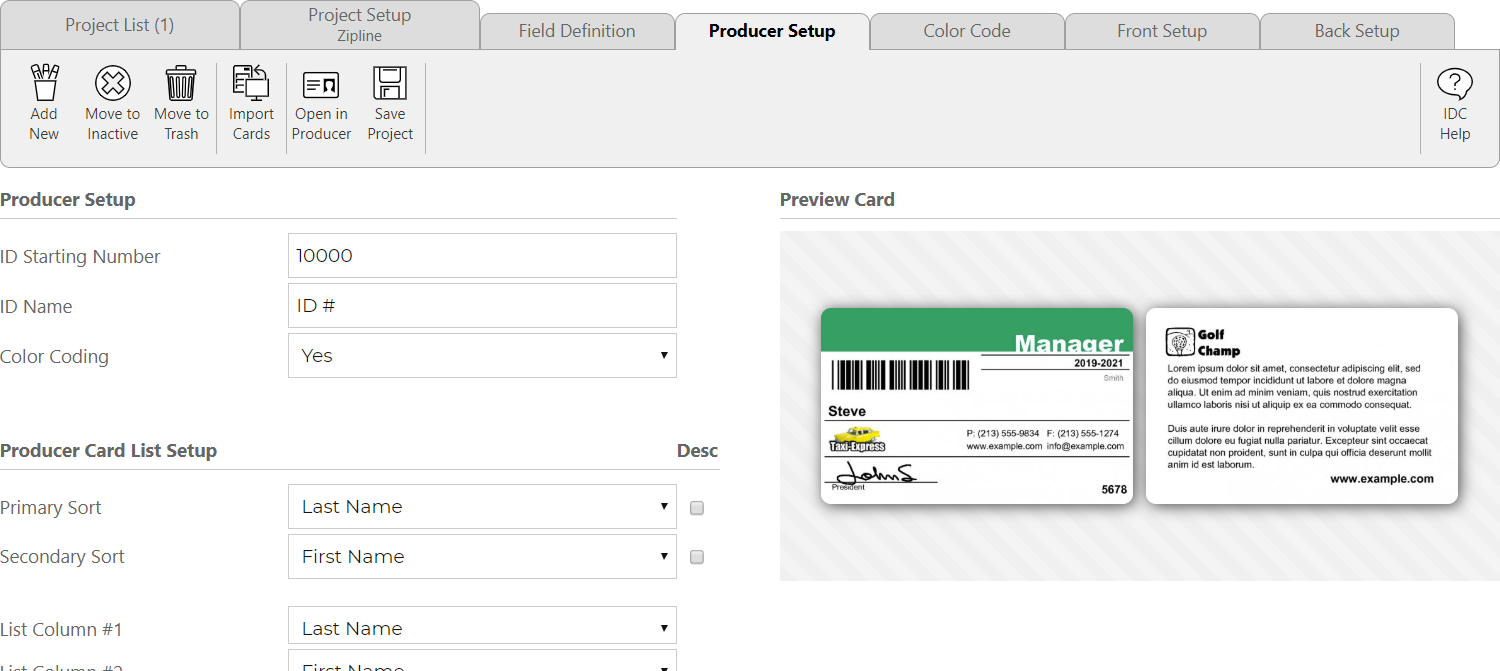 Tabs
Toolbar
Add New – Create a new project.
Move to Active – Move the project to active when ready to print cards in Producer.
Move to Trash – Remove the project from everywhere except for Administrator.
Import Cards – Import cards from a CSV file, Microsoft Excel, Microsoft Access, Google Sheet, etc.
Save Project – Save the project to the cloud.
Help Center – This help page.
Fields
ID Starting Number – You can set the auto number to start a specific value. The default value is 10000. Once the first card is created the value cannot be changed.
ID Name – The name of your primary key, a primary key is a unique identifier of a card. By default, we use "ID #" but you can change it to your need. Example: "Employee ID" or just "ID".
Color Coding – Color coding in IDC can be disabled for the project, but Color Coding can be used in many ways. Read more about Color Coding tips and tricks here.
Border around Photo ID – Border around Photo ID in IDC can be set as default from the Template or Hidden or always Visible for the project.
Primary/Secondary Sort by – Specify a primary and secondary sort by for the Card Listin the Producer By checking the Descending checkbox to the right, you can inverse the sort order of the field selected. By default, unchecked will sort from A to Z and checked will sort from Z to A. This checkbox is very useful when sorting dates.
List Column #1 … #6 – Choose up to 6 columns to display for the Card List in Producer. Choose "Empty" to hide a column.
Preview Card
This is a preview of what your card will look like when printed. Dynamic fields will be updated with the information you enter in Producer and Photo ID will change for each card.