Front / Back Design
IDC templates can have four types of objects that you can customize for the front and the back of the card depending on the design. Some designs might not have barcodes or images. Click on the color to open the Color Picker and choose your own color. You can also copy/paste Hex Color Code, example: FF8000 for orange.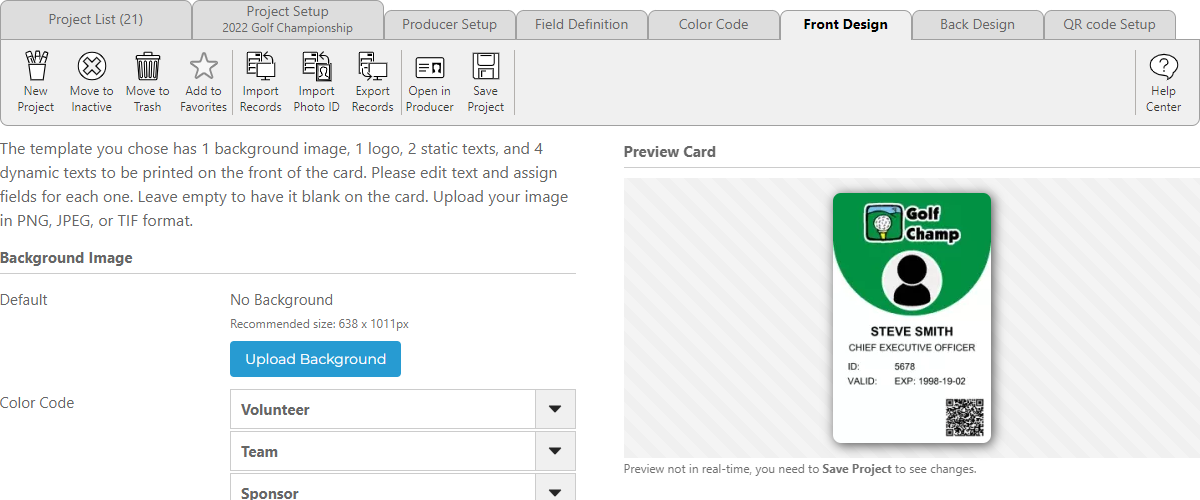 Tabs
Toolbar
New Project – Create a new project.
Move to Active – Move the project to active when ready to print cards in Producer.
Move to Trash – Remove the project from everywhere except for Administrator.
Import Records – Import records from a CSV file, Microsoft Excel, Microsoft Access, Google Sheet, etc.
Import Photo ID– Import Photo ID from a ZIP file. Imported photos are matched using the ID #. ex: 100580.jpg. This feature is available upon request only and at our discretion.
Export Records – Export records to XLSX (Excel), CSV, and XML. You can export the Photo ID using the XML or XLSX format.
Open in Producer – Open the project directly in Producer (shortcut).
Save Project – Save the project to the cloud.
Help Center – This help page.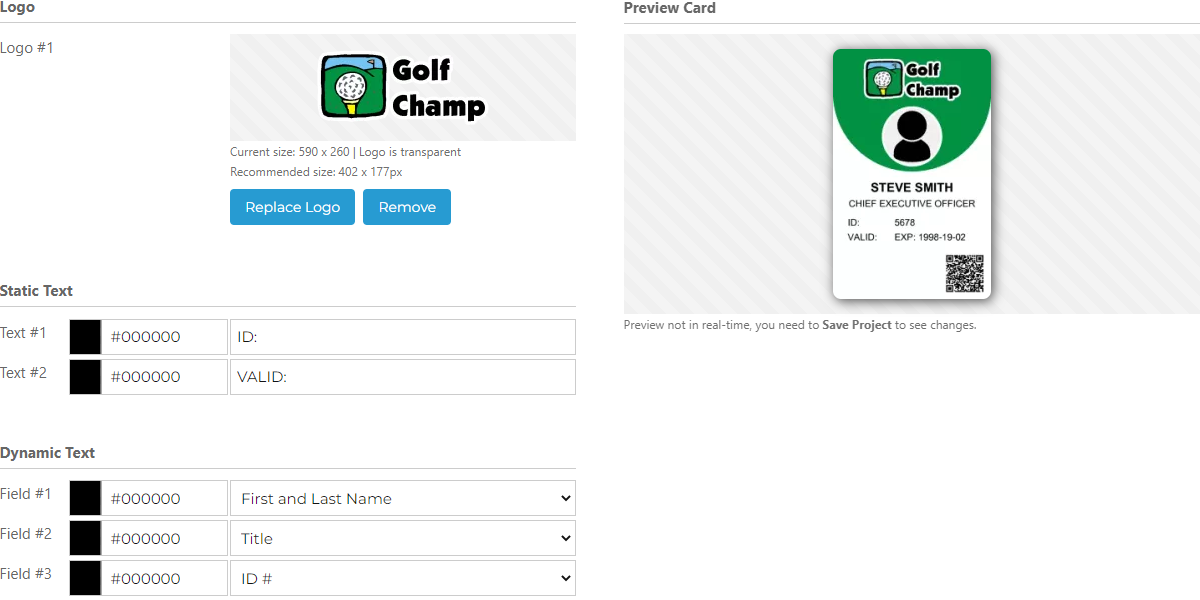 Fields
Background Image – Upload a background image to any template. For great printing results, a background image must be the recommended upload size or bigger. We recommend PNG as file type; PNG supports transparency and the results in better looking prints. File size may not exceed 2 MB.
Logo – IDC will use your organization logo by default that you've set in Profile / Organization, but you can always change it for each project. Click on Choose File and choose a logo on your computer. For great printing results, a logo must be the recommended upload size or bigger. We recommend PNG as file type; PNG supports transparency and the results in better looking prints. File size may not exceed 2 MB.
Static Text – Text are static text that stay the same on all cards. For Memo Text, you can turn-on "Allow HTML" and use HTML code in the textarea. You can also use shortcode here.
Dynamic Text – Is text that changes depending on the value set in Producer Card Information Example: First Name will print "Steve". If you select "Empty" from the pull-down menu, the dynamic text will be hidden on the card.
Barcode – It will print a barcode depending on the symbology you choose and the field to be encoded. Make sure the right symbology is selected, as invalid data can generate an error. Example: having letters in a barcode that accepts only numbers.
Image – Select an image to replace the one in the template.
Allow HTML
List of HTML code supported by IDC in Memo Text when Allow HTML is checked. HTML tag must be followed by it's closing tag. <b>bold</b> Note, the font Helvetica is set by default when using the Allow HTML. When Allow HTML is checked, the feature "Fit to cell" is disabled, so text size will not be adjusted to the cell space.
The <p> tag defines a paragraph
The <br> tag inserts a single line break.
The <strong> or <b> tag specifies bold text.
The <i> tag specifies italic text.
The <em> tag is used to define emphasized text.
The <ul> tag defines an unordered (bulleted) list.
The <ol> tag defines an ordered list.
The <li> tag defines a list item.
The <font> tag defines font face, font size, and color of text.

Example: <font face="times" size="25″ color="blue">some text</font>

The <sup> tag defines superscript text.
Don't forget, when using an HTML tag, you need to close it with a / Ex: <b>This is a Test</b>
Shortcodes
List of shortcodes supported by IDC.
[id]

Example: 5678

[organization_name]

Example: ACME Example inc.

[firstlast_name]

Example: Steve Smith

[colorcodename]

Example: Administrator

[year]

Example: 2021 (display current year)

[tag_price_type]

Example: /each

[tag_price]

Example: 299.95

[tag_fd3]

Example: Double Pedestal

[tag_fd4]

Example: Butterfly Extensions

[tag_price_whole]

Example: 299

[tag_price_decimal]

Example: 95
Barcode
List of barcodes supported by IDC.
CODABAR (varchar)
CODE 11 (decimal)
CODE 128 (varchar)
CODE 128 A (varchar)
CODE 128 B (varchar)
CODE 128 C (decimal)
CODE 39 (varchar)
CODE 39 EXTENDED (varchar)
CODE 93 (varchar)
EAN-13 (decimal)
EAN-2 (decimal)
EAN-5 (decimal)
EAN-8 (decimal)
Interleaved 2 of 5 (decimal)
MSI (decimal)
PHARMACODE (decimal)
PHARMACODE TWO-TRACKS (decimal)
PLANET (decimal)
POSTNET (decimal)
RMS4CC (varchar)
Standard 2 of 5 (decimal)
UPC-A (decimal)
UPC-E (decimal)